As seen in
&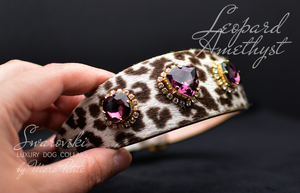 Leopard dog collar with Swarovski
Not only does this collar make a bold fashion statement, but it also offers durability and comfort for your furry friend. It is suitable for toy, small and medium-sized breeds, ensuring a perfect fit.

To complete the ensemble, consider pairing the collar with our matching dog show leash. Crafted from the same leopard-print leather, it harmoniously extends the captivating design. The leash features a comfortable leather handle, providing both style and practicality.

Indulge your beloved pet in luxury with our jeweled dog collar in leopard leather, adorned with mesmerizing amethyst Swarovski crystals. Designed to accommodate toy, small, medium, and even large breeds, this collar is a true testament to opulence and individuality.

Experience the thrill of the wild and let your dog make a bold statement with our Leopard Dog Collar. Immerse yourself in the beauty of nature while exuding elegance and style. Complete the look with our matching leash, and together, embark on extraordinary adventures with your furry companion.

Width: 3 - 7  cm  If you need other width, contact us. 
Length: On request. Specify neck girt and breed on checkout. 
Outside Leather: goat fur leather with leopard print
Inside Leather: genuine leather
Warranty, replacement or repair of leather goods for the first 2 years at no cost for products worth more than $700. Delivery to the store: at client cost. Delivery to the client: at our cost. The product should be preserved in good condition to be repared. Send us a picture before. It is also possible to repair products that are out of warranty. For more information, contact us.
The process of making dog collars and leashes takes generally between 2 to 10 days and in some cases 1 month, depending on the type of the collar: not sewn - 2-5 days, sewn - 5-7 days, sewn with complex pattern and large sizes - 10-15 days. All our products are handmade to order and require step-by-step manufacturing technology, which requires a certain amount of time between different stages. If your collar or leash need an extra customization because of size or adaption to specific dog breed, it may take some extra time - few days.
Standard Delivery: free. Spain - 24-48 hrs. EU - 72 – 96 hrs. America, Asia, etc. - 5-10 BD.
Express Delivery: check the cost on checkout. Spain - 24-48 hrs. EU - 48 – 72 hrs. America, Asia, etc.* - 3-5 BD.
The collars are sent in a beautiful gift packaging which include instructions and accesories for our designer dog collars maintenance, as well small gifs as dog perfume testers or others.
All our products are made-to-order, handmade & hand sewn piece by piece, with no waste at all. This is why the cost of any of our products are much higher than other pet brands, but as well is much higher the quality & durability of our products.