Marc Petite is happy to announce the new collection of full grain leather belts and accessories! Elegant, timeless, chic and simple at the same time – they look and smell just as we wanted them to. Hand-sewn and hand-crafted, these accessories never repeat themselves – pieces of uniqueness shared by Marc Petite with those whose hearts treasure love.
If you belong to the category of people who, among hundreds of things, will always choose the one made with hands, this collection is truly for you!
Leather Belts
Hand-crafted and hand-sewn belts from Marc Petite are made from genuine vegetable tanned leather. The collection is presented in two basic color combinations but you can choose any other color as well as any other leather and let us know about it! These pieces are made-to-order and your belt can be the combination of our mastership and your designer view. The inner side of the belts – soft and pleasant to touch – is made from genuine aniline leather. This material, compared to vegetable tanned leather, is much more durable, longwearing, scratch and foul resistant. The edges of the belts are specially treated for more aesthetics and waterproofness. Hold one in your hands to feel how much care and attention we put into these accessories.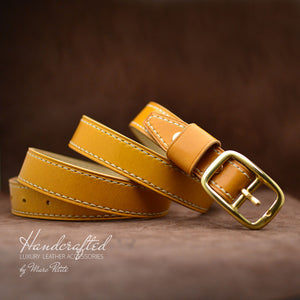 One Color Belts
Gorgeous single color belts is the choice of those who prefers classics. High-quality full grain leather combined with brass and stainless-steel buckles as the basics of this model you can further vary according to your taste! Size, leather type and color – create your own unique belt with Marc Petite!
Yellow Mustard Leather Belt with Brass Buckle
Yellow Mustard Leather Belt with Stainless Steel Buckle
Burgundy Leather Belt with Stainless Steel Stud
Two Colors Belts
The same high-quality full grain leather, brass and stainless-steel buckles offered in the two-color combination. One step away from the classics to the modern design. If you want to see this belt in another dual color combination, let us know and we'll make it for you!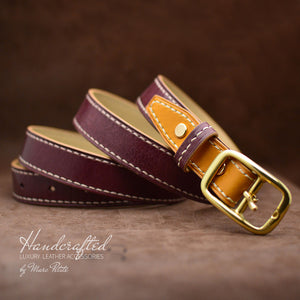 Burgundy Leather Belt with Yellow Mustard Insertion & Brass Buckle
Yellow Mustard Leather Belt with Burgundy Insertion & Brass Buckle
Gift Packs
Do not miss the opportunity to get a Gift Pack at attractive price:
Standard Gift Pack: Belt + Cardholders;
Super Gift Pack: Belt + Cardholders + Dog Collar + Leash.
You can choose any colors and combinations, any Dog Collar you like and add it to the Gift Pack! It can be fully customized! Share the link to the collar of your choice on our website and we'll add it to your Super Gift Pack.
Leather Gift Pack: Belt + Cardholder + Dog Collar + Dog Leash
Leather Cardholders
The new cardholders elegantly complement leather dog collars and belts from Marc Petite. Hand-sewn and made from full grain vegetable leather, they are available with two and three pockets in any color you wish.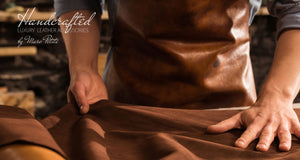 Customized Product: Design / Color/ Leather How it works
How it works
What do we mean when we offer our clients to get our hand-crafted accessories customised? You can truly become the author of your own design and collaborate with Marc Petite in making absolutely unique belts and Gift Packs! You are welcome to choose leather, color and size of the accessory!
Onece we received the order, we'll contact you within 24-48 business hours to confirm the design, production time and other related arrangements, if any.
Production: your accessory will be made for 2-5 days. If you order the leather we do not have in stock at the moment, it may additionally take 2 or 3 business days.
Shipping:
Spain - 24-48 hrs.
EU - 48 – 72 hrs.
USA, China, etc. - 5-10 BD.
The models already presented on the website are likely to be delivered without delays.
Why Handmade?
Uniqueness and attention to details are not the only reasons why many people tend to choose handmade leather accessories to mass products. Curious enough but handcrafted pieces are often chosen unconsciously. Because it's not only about material things, it's also about warmth and connection between the master and the person who gets hold of the thing he made. Handcrafted accessories have this special charm, they are really very texture and … sort of intimate as they always preserve that mood and attitude the master imbued them with. You take the handcrafted piece in your hands guessing what the person was thinking about when he was monotonously and elaborately making this thing…
Edging, cutting, groove, grinding, polishing, sewing – handcrafted goods are highly personal to every minor detail. This is why such an accessory is either expensive or given as a gift. Not something in between.
Material aspects are certainly important as well. Hand stitching is always better than machine sewing. Marc Petite, sticking to old artisan traditions, gives preference to the saddle stitch technique which is still used by the most prestigious fashion brands that share the same philosophy. Saddle stitch or "Le Point Sellier" as called on its native French land is assumed to be indestructible and incredibly durable, this is why we mastered this technique to offer you the best.
In Marc Petite you can communicate with artisans directly and directly participate in creation of a special design. It does not work with mass production.
Handcrafted goods have a longer warranty period and most of them age beautifully! We like the concept promoted by the Fashion Revolution movement as it truly matters who makes things for you. Marc Petite appreciates the authentic beauty and true value of handmade fashion items and most of our clients do share this view. Keeping up with new trends is not so important to us. Marc Petite stands for slow fashion, sustainability and great design.
Why Vegetable Tanned
Vegetable tanning is not something new: this eco-friendly method of leather treatment has been around for centuries. It is based on the craftsmanship and careful use of traditional techniques. Vegetable tanning makes gives leather a distinct appearance and unmatched durability. Used for years, vegetable tanned leather goods develop a patina that resists aggressive impacts of the environment even better and makes the accessory even more beautiful and unique. Vegetable tanning is based on organic materials and natural tannins derived from barks, leaves, branches of trees and different plants. These colors are gorgeously rich and deep – absolutely irresistible browns, reds, beiges and yellows, just like the dream autumn landscape!
Saddle Stitch (or Laced Stitch) – Le Point Sellier
Marc Petite stands for the French artisan traditions & know-how. This is why, all our leather products are hand-sewn in the saddle stitch technique which is used by most prestigious fashion brands like Hermes and others top brands for their leather products.
The saddle stitch was designed about a century ago by craftsmen-saddlers and harnessers for making saddles, equestrian, horse-drawn carriages and other parts for working horses. The first products for humans, sewn in this technique, were leather parts heavily subjected to wear and tear – handles, belts as well as luxury leather goods.
The hand-sewing (saddle stitch) is not a fancy choice or a whim. Truly it has been traditionally assumed to be indestructible, for this reason we thought it would be best for our products. Best for you.