As seen in
&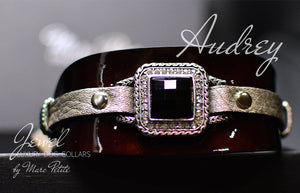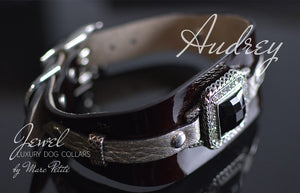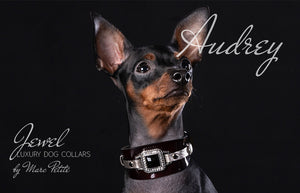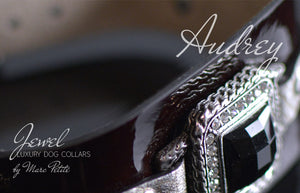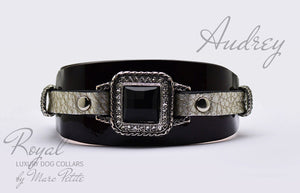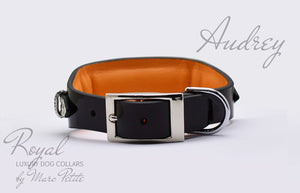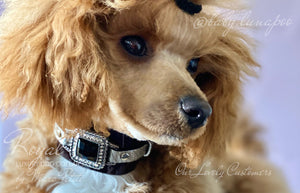 Style and glamor exclaim their presence. Audrey is an exclusive dog collar made to highlight the beauty of your pet. The perfect combination of different textures accompanied by an imposing central figure make this necklace an attractive piece of collection.

A prominent black stone sustained with a delicate frame in natural tones takes center stage in this luxury necklace. The overlay of patent leather with leather of golden tones achieve a harmonious confection of great artistic value.

This necklace is handmade in patent leather under the Point Sellier technique and is recommended for small, medium and large breeds. Its interior is soft velvety leather for your pet's comfort. The buckle and PIN are high-end with high breaking load.

Width: 4 / 6 / 7 / 9 cm. If you need other width, contact us. 
Length: On request. Specify neck girt and breed on checkout.

Outside Leather: charol leather
Inside Leather: soft velour leather
Warranty, replacement or repair of leather goods for the first 2 years at no cost for products worth more than $700. Delivery to the store: at client cost. Delivery to the client: at our cost. The product should be preserved in good condition to be repared. Send us a picture before. It is also possible to repair products that are out of warranty. For more information, contact us.
The process of making dog collars and leashes takes generally between 2 to 10 days and in some cases 1 month, depending on the type of the collar: not sewn - 2-5 days, sewn - 5-7 days, sewn with complex pattern and large sizes - 10-15 days. All our products are handmade to order and require step-by-step manufacturing technology, which requires a certain amount of time between different stages. If your collar or leash need an extra customization because of size or adaption to specific dog breed, it may take some extra time - few days.
Standard Delivery: free. Spain - 24-48 hrs. EU - 72 – 96 hrs. America, Asia, etc. - 5-10 BD.
Express Delivery: check the cost on checkout. Spain - 24-48 hrs. EU - 48 – 72 hrs. America, Asia, etc.* - 3-5 BD.
The collars are sent in a beautiful gift packaging which include instructions and accesories for our designer dog collars maintenance, as well small gifs as dog perfume testers or others.
All our products are made-to-order, handmade & hand sewn piece by piece, with no waste at all. This is why the cost of any of our products are much higher than other pet brands, but as well is much higher the quality & durability of our products.