As seen in
&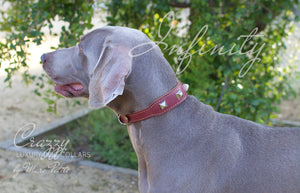 Elegance has no limits and this creation proves it. Modernity and style are indisputable in this collectable leather dog collar. Its crocodile print texture enhances the beauty of this attractive garment.

This dog collar is handmade and hand sewn. The perfect combination of its red color with the design of the silver spikes applied to its surface make this dog collar in an unique piece for your pet. Its buckle and pin, of the same shade as its appliques, are of great quality with high breaking load.


Infinity is available for medium, large and extra-large breeds. This necklace is sewn by hand using the Point Sellier technique, with the measurements and information on breed and weight that you provide we will find the perfect fit for your pet.
Size: 
Width: 3,5 / 6  / 7 cm or wider. If you need other width, contact us. 
Length: On request. Specify neck girt and breed on checkout.

Outside Leather: genuine cow leather with fashion croco print
Inside Leather: genuine cow leather
Warranty, replacement or repair of leather goods for the first 2 years at no cost for products worth more than $700. Delivery to the store: at client cost. Delivery to the client: at our cost. The product should be preserved in good condition to be repared. Send us a picture before. It is also possible to repair products that are out of warranty. For more information, contact us.
All our products are made-to-order, handmade & hand sewn piece by piece, with no waste at all. This is why the cost of any of our products are much higher than other pet brands, but as well is much higher the quality & durability of our products.