As seen in
&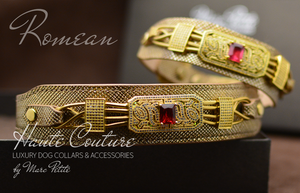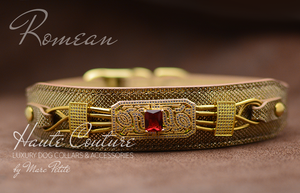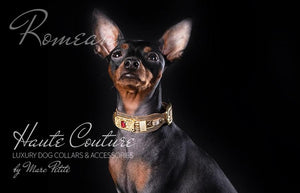 AS SEEN IN:
ROMEAN COLLAR – THE BEST ACCESSORY TO COMPLIMENT MARC PETITE WEDDING GOWNS
Oh, dear! You have such a wonderful dress but something seems to be missing… 
Let it be complimented by the splendid Romean collar! The Haute Couture accessory is specially created to show the collection of the magnificent Marc Petite wedding dresses to their full advantage. This duet makes the perfect image of the happiest doggie bride. 
We have taken a piece of soft cow leather with a print, a handful of Austrian CZ Rhinestone Crystals and the bright Zircon as a centerpiece to create a 24k gold plated hit for the outstanding wedding look.
The art of the Micro Pave technique, that became a discovery for us, makes the Romean collar even more unique and festive. Beautifully packaged in a signature Marc Petite box, this accessory will become the most desired gift for a wedding day. Shine bright, dear!
This Haute Couture dog collar was specially made for our Exclusive Collection of Couture & Wedding Dog Dresses - Boreal & Juliette - and will be limited to few pieces.

This collar could be done for toy, small & some middle breeds.

Exclusive Limited Collection
Limited Collection

Width: 2,5 / 4 cm. If you need other width, contact us. 
Length: On request. Specify neck girt and breed on checkout.
Outside Leather: genuine cow leather with fashion print
Inside Leather: soft goat skin or caw leather
Warranty, replacement or repair of leather goods for the first 2 years at no cost for products worth more than $700. Delivery to the store: at client cost. Delivery to the client: at our cost. The product should be preserved in good condition to be repared. Send us a picture before. It is also possible to repair products that are out of warranty. For more information, contact us.
The process of making dog collars and leashes takes generally between 2 to 10 days and in some cases 1 month, depending on the type of the collar: not sewn - 2-5 days, sewn - 5-7 days, sewn with complex pattern and large sizes - 10-15 days. All our products are handmade to order and require step-by-step manufacturing technology, which requires a certain amount of time between different stages. If your collar or leash need an extra customization because of size or adaption to specific dog breed, it may take some extra time - few days.
Standard Delivery: free. Spain - 24-48 hrs. EU - 72 – 96 hrs. America, Asia, etc. - 5-10 BD.
Express Delivery: check the cost on checkout. Spain - 24-48 hrs. EU - 48 – 72 hrs. America, Asia, etc.* - 3-5 BD.
The collars are sent in a beautiful gift packaging which include instructions and accesories for our designer dog collars maintenance, as well small gifs as dog perfume testers or others.
All our products are made-to-order, handmade & hand sewn piece by piece, with no waste at all. This is why the cost of any of our products are much higher than other pet brands, but as well is much higher the quality & durability of our products.