Marc Petite
Marc Petite is our personal story. We are best friends for almost 20 years, living on the Mediteranian coast near Barcelona. Almost as soon as we met, we began to cherish the dream to create a project together. With the launch of Marc Petite in September 2018, this dream took the shape and finally turned into reality. In February 2019 we presented our Web Boutique!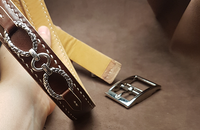 Made-to-Order
Customization & Sustainability
No intermediaries, no wholesalers. No stock, overproduction & no waste. Hence no excessive margins. It's just between you and us. And this is what allows us to offer you a quality product at an affordable price. Welcome to the fashion of the 21st century.
Leather Artisans
Inspired by and learning from the bests, like Hermes, G-Lancelot, Goyard & other luxury brands, every new model and every new piece created & handcrafted in our workshop is better than the anterior.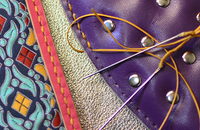 Le Point Sellier
The Saddle Stitch & Crafting
All our leather products are made-to-order & hand sewn in a very particular technique - saddle stitch ("Le Point Sellier"), - which is used by most prestigious fashion brands like Hermes, Loewe and other brands. This is why the cost of ours is higher than other pet brands, but as well is much higher the quality & durability of our products. Learn more about the crafting process of our leather products & accessories, like dog collars & leashes, here.
First Collection
Rainbow - the most beautiful natural phenomenon which comes after a storm. And our collection "Rainbow", the tribute to nature, was inspired by 7 colors. All pieces of this collection are made from holographic leather produced by Italian factories with more than 50 years of tanning tradition, they develop their leather designs called "laminati" with the most important Italian and international fashion brands.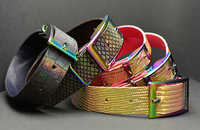 Press & Media
We were so much excited by the fact that the first media that contacted us were British Tatler & Vogue in 2019 and 2020. As soon as this year and in 2021 we are going to appear in more media and to participate in various design awards.
Our plans & New Ideas
We are so excited to announce that one of our favorite collars, Romean, was featured in the House of the Dragon, the spinoff of the Game of Thrones. It's an honor to be a part of such a iconic show.
More info