Adamas cor

Swarovski Dog Collar
Designer Dog Collars & Leashes
High-end Dog collars and leashes for those who like to dress stylishly and believe that their furry friends deserve to use high-quality, fashionable and comfortable accessories, just like their owners do. Also for those who care about how and where products are made and want to be part of the 21th century sustainable fashion.
This elegant set of dog collar, leash and bracelets, in modern floral pattern with honeycomb effect, is made in soft enameled leather and decorated with embded Swarovski crystals. The hardware of this collar is plated in 24k gold.
Swarovski Dog collars & Matching Accessories
Désse - Swarovski Dog Collar
This elegant set of dog collar, available with matching leash and bracelets, in modern floral pattern with honeycomb effect, is made in soft enameled leather and decorated with embded Swarovski crystals.
See collar
Flora Style Dog Collar "Black Sun"
Old style Gold Collar and matching leash in leather with croco pattern and jewels.
See collar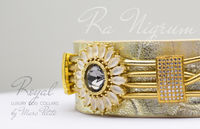 And this year more Matching Accesories
Dog Collars with mathching leashes and bracelets, bags, dog collar charms and much more soon on the shop... And new awesome dog collars in other collections.
Swarovski Crystal Dog Charms
A perfect complement to your Swarovski dog collar or a gift for dog lovers. Made in high quality 24k gold plated brass and 925 silver any piece may be customized or combined on the request.
See Swarovski Dog Charms
Some of our lovely furry customers
And theirs Testimonials
@marcpetite Thankyou so much!!! It's so beautiful and the quality is amazing! And it's so light and comfortable for Bonnie. We will definitely be ordering a few more!!

@bonnie_d_thefrenchie
Oh, I've been looking forward to receiving this collar for a while! And let me tell you, the craftmanship is STELLAR! The crystals are beautiful and the leather is sturdy...
I was a little nervous, but WOW, the quality of workmanship and unbelievable beauty of this collar floored me. Marc continuously contacted me on sizing and delivery date. Without a doubt, it is "Royal"!
Luxury Dog Collars
High-end dog collars, handmade of the best genuine or vegetal tanned leather. All our leather products are handmade and hand sewn in traditional way in a workshop located in Spain, near Barcelona.

DESIGNER DOG COLLARS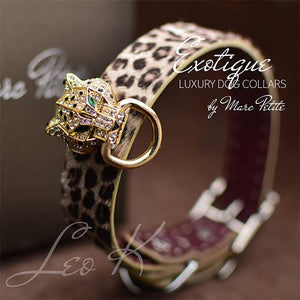 Exotique Dog Collars
As the name implies, Exotique collection contains unique pieces, made of exotic leather, fur and feathers, which will enhance the beauty of any pet. Leopard, zebra, ostrich feathers...
See exotique dog collars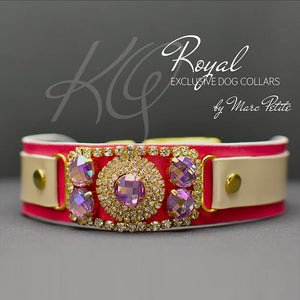 Royal Dog Collars
These Exclusive Dog Collars are out for rapturous compliments of your friends.

Made of natural Spanish leather, these exclusive dog collars shimmers in the rays of the playful sun.
See Royal Dog Collars
"El Duende" - Spanish Style
Our Spanish Style collection "El Duende" of dog collars is a tribute to Spanish culture & traditions. Flamenco, Corrida, Food & Drinks - are known over the world. We invite you to immerse yourself feel Spanish style.
Spanish Style Dog Collars
Flora Style Collars
Beautiful buds, delicate textures of stems & leaves, tender petals, inspired Marc Petite to create the captivating FLORA STYLE collection.

We connected the softest velor with the inflorescences of multi-colored stones, complemented with weaves of metal vegetative patterns and, of course, with accessories of perfect quality.
See flora style collars
Crazzy - Exclusive Dog Collars
A unique handcrafted multi-functional and timeless leather dog collars & leashes, especially suitable for strong dogs of middle, large & extra large breeds. Beautiful and aesthetic design styles that can take one from morning "On The Go", to a night on the town and are versatile for everything in between.
High-end Dog Collars
Medieval Dog Collars
We open "Medieval" Collection with this Spectacular Dog Collar "Noble". Inspired in "Game of Thrones" - it is the best gift for the fans of this TV Show.
See mediaval collection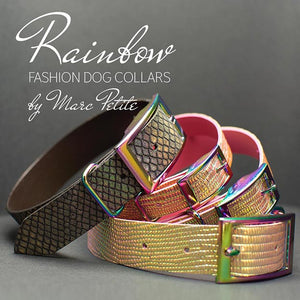 Rainbow Dog Collars
The Collars of this Collection are sparkling like their own name.

Iridescent and multicolored, they are shines and plays with the light. However, our Rainbow collection is not only about the radiant colors, but animalistic textures as well – lizard, snake and crocodile ones - the textures, colors and shades are often seeing in splendid interiors and wardrobes of fashionistas.
Rainbow Dog Collars
Twins
This Chic and Glamorous Collection will bring the look of your pet to new fashionable level.

Made of natural Spanish leather, varnished outside, these luxury dog collars are a tribute to capricious fashion worthyis of high society.

Available for toy & small breeds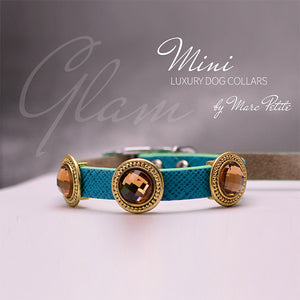 Mini Dog Collars
The Mini collection is designed specifically and only for toy breeds & will be available entire in few weeks.


What you need to know about dog fashion