As seen in
&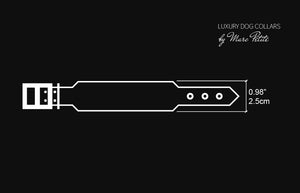 Natural colors and textures framed into gold with antique motifs and a contrasting blue stone that looks like a heavenly eye – this is how we see the design of Antique dog collar from the Medieval collection!
A desert behind the massive walls of an old city, plants and reptilians that can survive with no food and water, a handful of sand or earth, that exciting spirit of adventures… Feel the atmosphere of the delightful East – the land whose cities one after another would resign only to the bravest and warmest heart – the one that beats in the chest of Daenerys Stormborn. You step on the land of myths and legends, suffering and salvation, dragons and heroes…
Inspired by this fairy-tale, we create Antique – a dog collar from soft genuine bovine leather with a python skin texture, reliable gilded fixtures and elegant details. The inner side of the collar is finished with velour to provide comfort to your pet in addition to the pleasure and pride of wearing such a gorgeous accessory.
The new collar from the Medieval collection is suitable for toy, small and middle breeds – we'll be happy to select a perfect fit for your lovely pet if you provide information on his/her size and weight. Do not resist the temptation and buy a wonderful gift to the one whose heart loves you so faithfully.
Width: 2,5 cm. If you need other width, contact us. 
Length: On request. Specify neck girt and breed on checkout.
Outside Leather: genuine caw leather with snake print and vegetable tanned letather
Inside Leather: soft velour leather


Warranty, replacement or repair of leather goods for the first 2 years at no cost for products worth more than $700. Delivery to the store: at client cost. Delivery to the client: at our cost. The product should be preserved in good condition to be repared. Send us a picture before. It is also possible to repair products that are out of warranty. For more information, contact us.
The process of making dog collars and leashes takes generally between 2 to 10 days and in some cases 1 month, depending on the type of the collar: not sewn - 2-5 days, sewn - 5-7 days, sewn with complex pattern and large sizes - 10-15 days. All our products are handmade to order and require step-by-step manufacturing technology, which requires a certain amount of time between different stages. If your collar or leash need an extra customization because of size or adaption to specific dog breed, it may take some extra time - few days.
Standard Delivery: free. Spain - 24-48 hrs. EU - 72 – 96 hrs. America, Asia, etc. - 5-10 BD.
Express Delivery: check the cost on checkout. Spain - 24-48 hrs. EU - 48 – 72 hrs. America, Asia, etc.* - 3-5 BD.
The collars are sent in a beautiful gift packaging which include instructions and accesories for our designer dog collars maintenance, as well small gifs as dog perfume testers or others.
All our products are made-to-order, handmade & hand sewn piece by piece, with no waste at all. This is why the cost of any of our products are much higher than other pet brands, but as well is much higher the quality & durability of our products.